This free "Intro to Permaculture" book is meant for the novice and the professional alike, with no prior experience necessary.
New to Permaculture
If you're new to permaculture design, this book will provide a useful foundation on sustainable agriculture and land stewardship from a leading expert in the field.
Personal and Professional Development
For gardeners, farmers, nurserymen, architects, landscapers, land managers, developers, engineers, aid workers, planners and activists, this book can help deepen and focus the good work you're already doing. It will also provide a firm grounding in permaculture design processes you can apply in your current endeavors.
If you'd like more robust training, please check out our online Permaculture Design Certificate.
What's Included in this Free Permaculture Book?
Here are just a few chapters that comprise the book:
What is Permaculture?
The People of Permaculture
Permaculture Site Analysis: From Macro to Micro
Watershed Restoration
Permaculture Principles
Design Methods Resources
Where to From Here?
This book teaches a system and process of design which can be used to enhance work in many different fields, rather than a specific technique. You can view the book online with many helpful videos or download it in a printable PDF.
Permaculture Design Certificate
If you would like to really jump into learning and improving your permaculture knowledge, as well as create your own sustainable landscape design, be sure to register for Andrew's online Permaculture Design Certificate. There are no prerequisites for this course and you will complete a finished design with one-on-one guidance from Andrew and his team of renowned permaculture experts. Plus, with the convenience of learning online, you can study where and when it's most convenient for you.
Author: Andrew Millison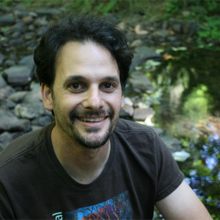 Andrew Millison brings nearly 20 years of experience in designing and building permaculture projects to his teaching and wants to share that rich, real-world experience with his students.
He has been studying, teaching and practicing permaculture since he took his first design course in 1996. He began teaching permaculture design at the college level in 2001 and has been an instructor at Oregon State University in the Horticulture Department since 2009. Andrew currently teaches the Permaculture Design Course and the Advanced Permaculture Design Practicum at OSU on campus and online.
Andrew first learned permaculture design in the drylands of Arizona, where he studied for his undergraduate and master's degrees at Prescott College. His focus was on rainwater harvesting, greywater systems and desert agriculture. He started a permaculture landscape design and build company and also worked in an ecologically-based landscape architecture firm.
In recent years, Andrew's focus has been more on broad-scale farm planning, permaculture housing developments and obtaining water rights. In 2015 he founded Permaculture Design International, a collaborative design firm that works on large-scale global projects.



OSU's Professional and Continuing Education
Professional and Continuing Education offers Oregon State short courses and certificates nationally and internationally, which can help in obtaining a promotion or starting in a new field.